---
Danscompany of Gainesville


37th Anniversary
---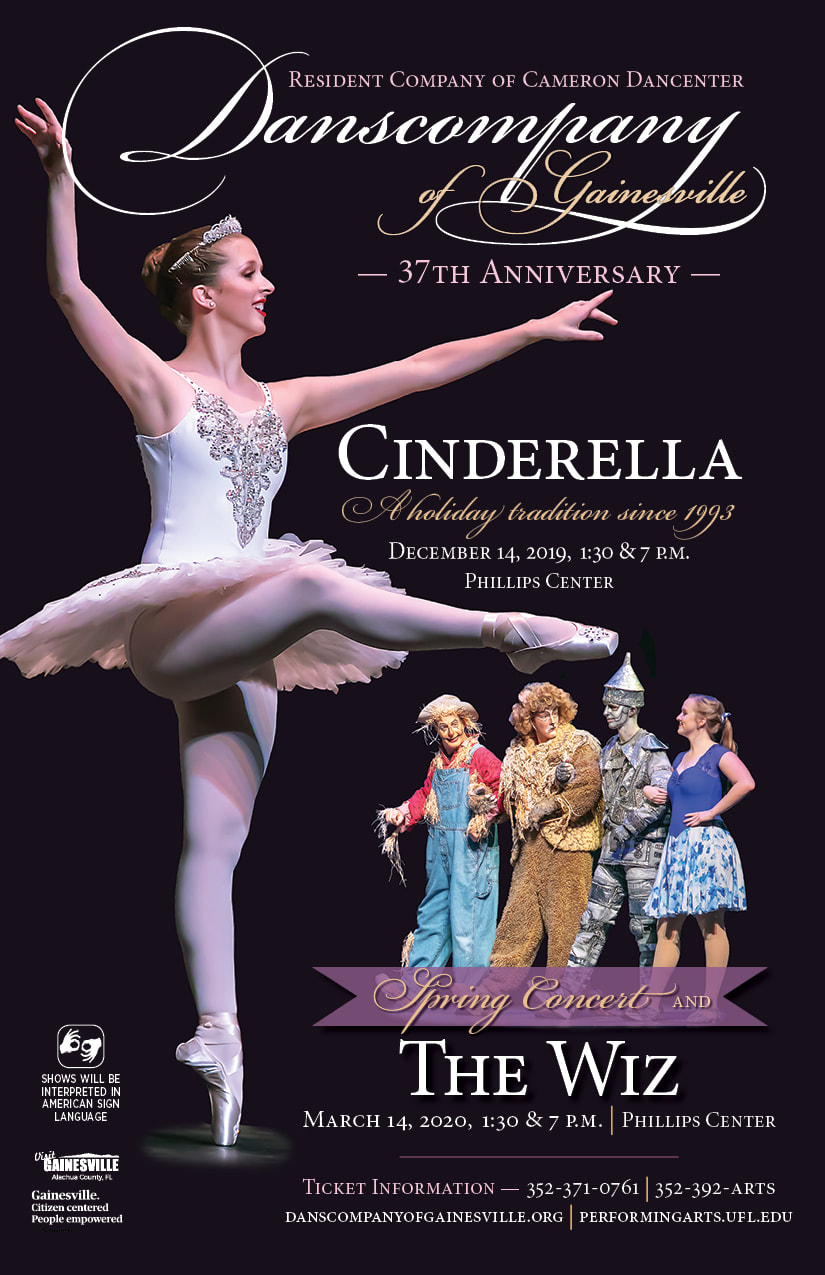 ---
---
Danscompany
2019 - 2020 Performances
---
Cinderella
December 14, 2019

1:30 & 7:00 PM
University of Florida Performing Arts

Phillips Center
​
Spring Concert / The Wiz
March 14, 2020
1:30pm and 7:00pm
---
---
---
---
Danscompany of Gainesville
Last Season Performances and Images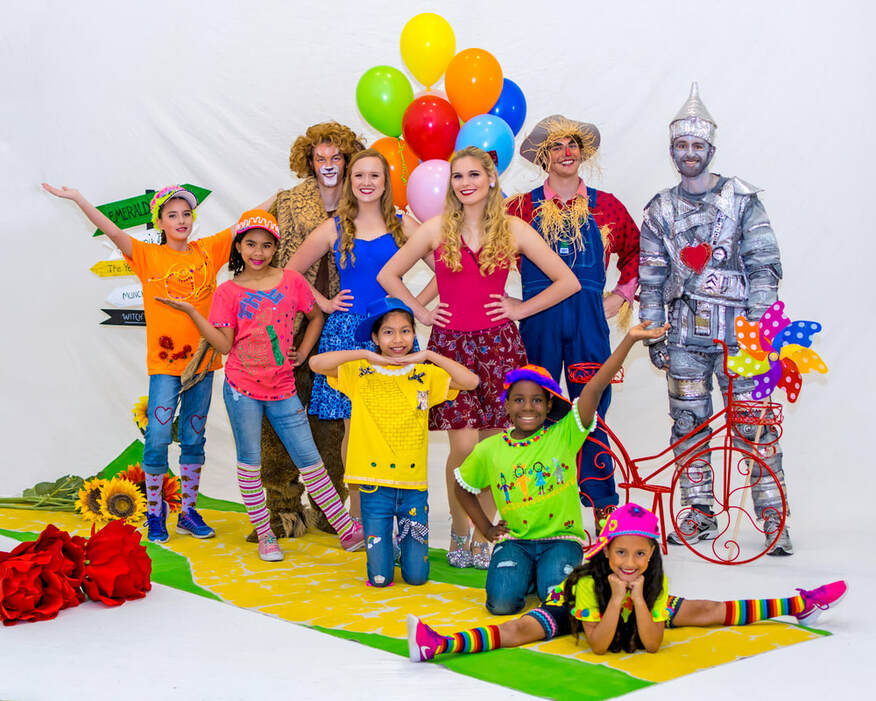 ---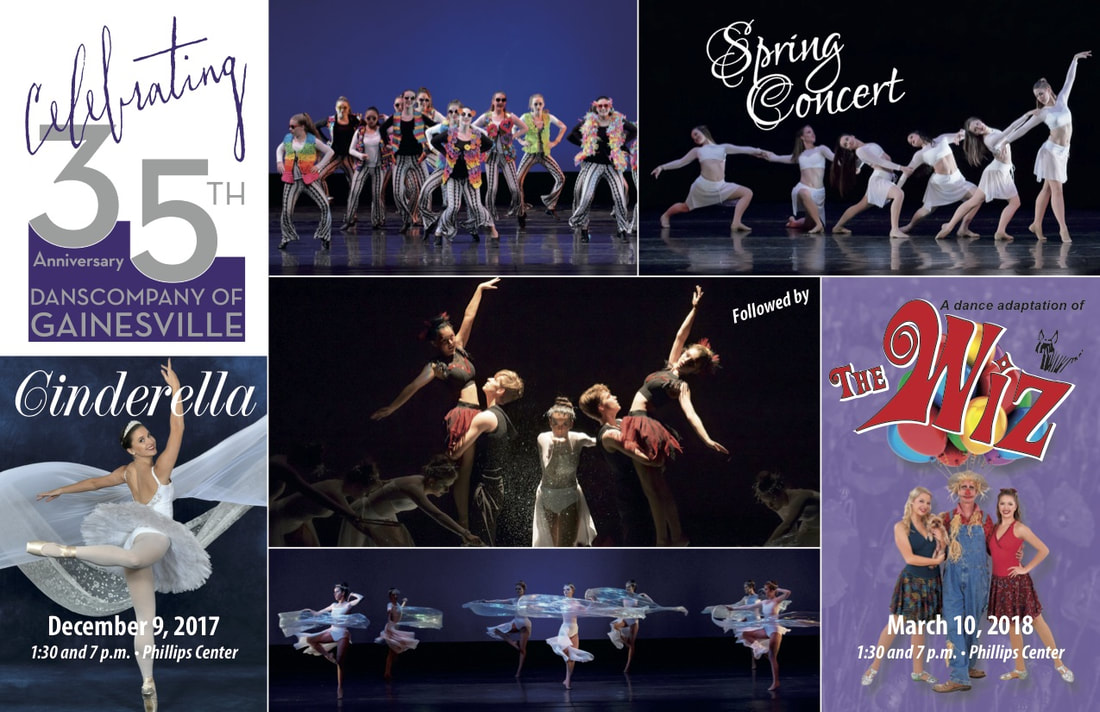 Danscompany List of Events

October
*UF Homecoming Parade 10/4/2019
* Oktoberfest fest Haile Plantation 10/4/2019, 5:00-8:30 PM
* GCC - Spooktacular Event 10/24/2019
* Lubee Bat Festival Thriller 10/26/2019, 11:00 AM - 2:00 PM
* Boo at the Zoo 10/31/2019, 3-6pm

November
* A Day of Dance at Gigi's Playhouse, TBA
* Downtown Arts Festival 11/16 - 11/17/2019
December
* Tioga Tree Lighting Festival 12/1/2019
* Haile Light the Village 12/6/2019
* Cinderella 12/14/2019, 1:30 PM & 7:00 PM

March
* Spring Concert with The Wiz 3/14/2020, 1:30 PM & 7:00 PM
* Spring Arts Festival 3/28 - 3/29/2020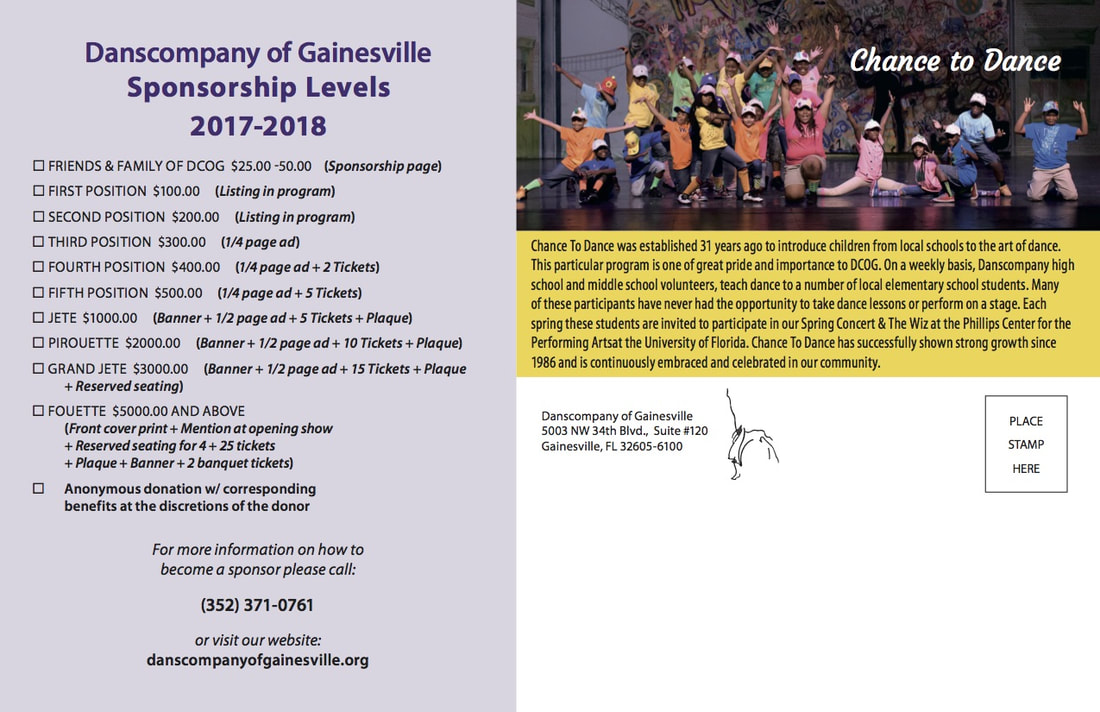 "A COPY OF THE OFFICIAL REGISTRATION AND FINANCIAL INFORMATION MAY BE
OBTAINED FROM THE DIVISION OF CONSUMER SERVICES BY CALLING TOLL-FREE (800-435-7352) WITHIN THE STATE. REGISTRATION DOES NOT IMPLY ENDORSEMENT, APPROVAL, OR RECOMMENDATION BY THE STATE."

Danscompany of Gainesville registration number is CH59783.
​Florida Department of Agriculture and Consumer Services.

---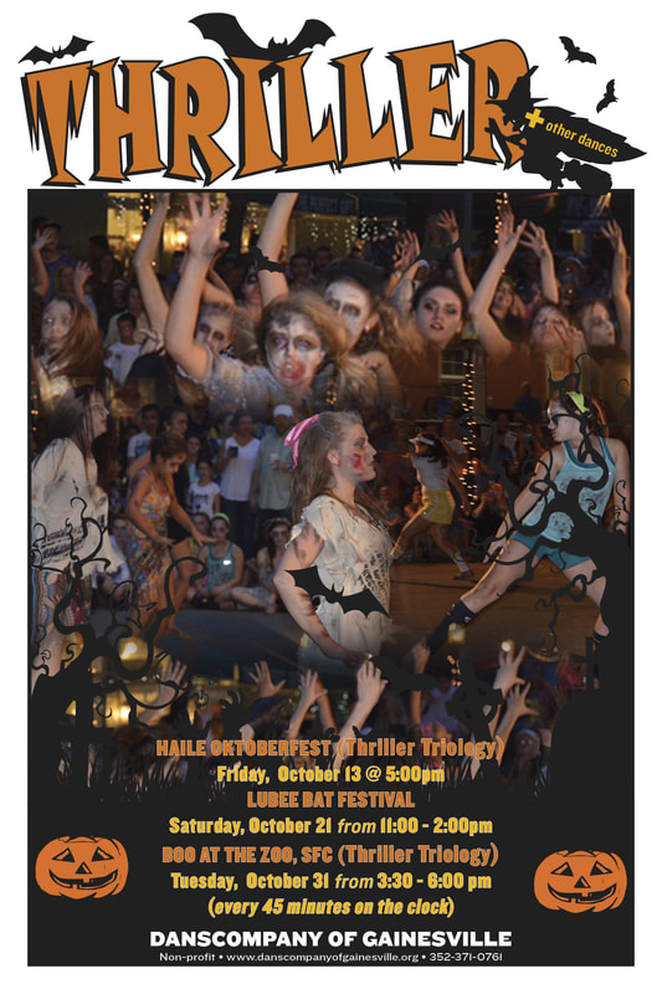 ---
---
---
---
---
CELEBRATING 37 YEARS...

This is another wonderful season for

Danscompany of Gainesville

. The 2019 - 2020 year will be a collaborative celebration of Danscompany's 35th Anniversary serving Gainesville and it's surrounding communities. It is impressive that DCOG has committed to successfully serving our community and our youth since being founded in 1983.

Danscompany of Gainesville

is a non-profit corporation founded by Artistic Director Nina Kessler Cameron. Nina's background in dance includes positions as Director of the Florida Competition of Mr. and Miss Dance, as second and first Vice President of Florida Dance Masters, in 1989 and again in 1992-1993 as an Area Director of the American Jazz Dance Council, past president and Convention Manager of Florida Dance Masters. She has also been awarded for her contribution to the arts in the community by the mayor of Gainesville and by receiving The Lifetime Achievement Award by the Gainsville/Alachua County Cultural Affairs.

Danscompany of Gainesville prides itself by being a family of talented dancers ranging in age from young children, teens, to adults. The company has approximately 125 members and continues to grow each year. All of our dancers work enthusiastically and with much dedication to provide the Gainesville and Alachua County areas with a blend of multi level dance talent and entertainment. The inspirational choreography in Ballet, Jazz, Modern, and Hip-Hop combined with the gifted dancers ultimately gives our audiences breathtaking performances time and time again.




Every performance provides an opportunity to share our love of dance with those who may not otherwise have a chance to experience the Arts.




DCOG

Outreach

gives back to our community

by providing over 300 free tickets to various groups such as the

Ronald McDonald House, PACE center of girls, Alachua County Hearing Impaired, Shands Hospital.




Our "Chance To Dance" program teaches children from local

schools a dance the children then perform in our spring production at the

Curtis M. Phillips Center for the Performing Arts as well as numerous other

organizations that support the Gainesville area and its surrounding

countries.

By participating in multiple

community events throughout the year

Danscompany of Gainesville

is able

to instill a sense of integrity and fulfillment for out dancers and provides

awareness of commitment to giving back to the people and businesses of our area

through the Arts.

Some of, but not all of our performances include:

The Downtown Arts Festival, The Spring Arts Festival, Thriller at Boo At The Zoo/Sante Fe College, Spotlight on Youth, PALS-Shands, Oktoberfest, The Haile Art Show

in addition to our two major productions- our holiday tradition

Cinderella

(since 1993) and our spring showcase

Dance Florida/The Wiz

(since 1983).
---
---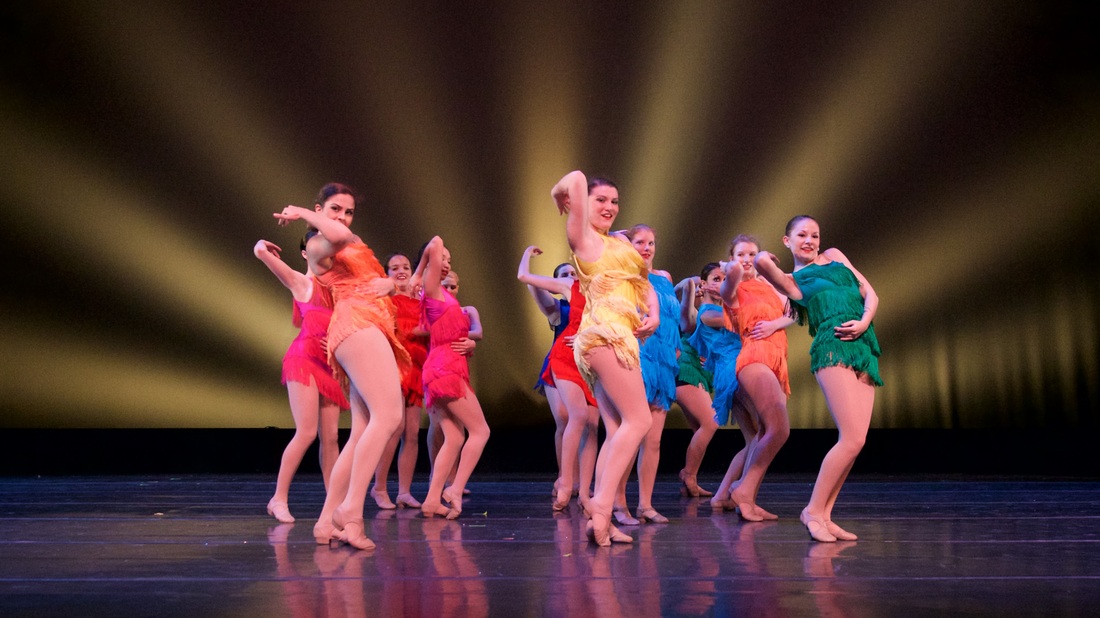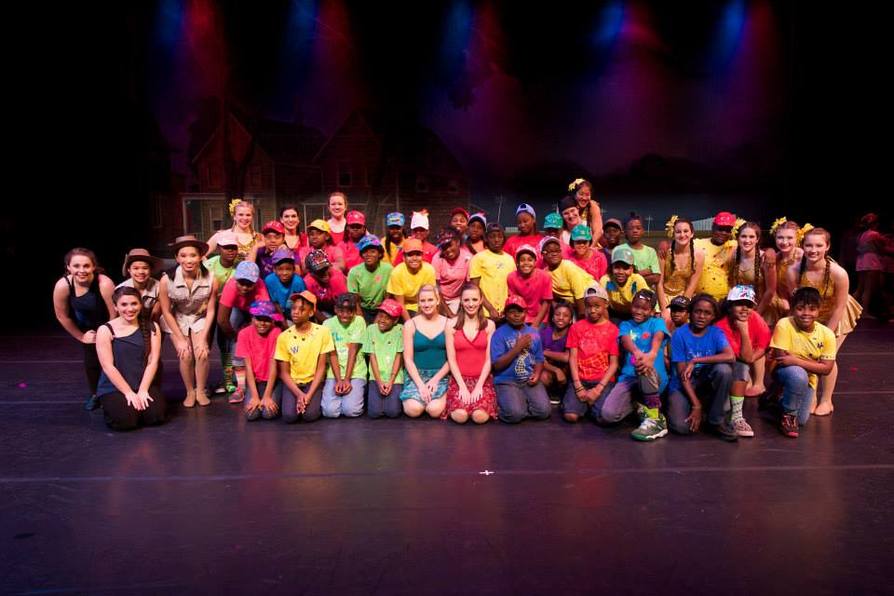 ---
---
Please, join The Danscompany of Gainesville in thanking our Sponsors.
Thank you to
Jim Burgess
for many of our beautiful photographs.

​Jim Doyle & Garland Avera


David & Heather Anderson


​Cathy & Franklin Lentz


​Emily and Phillip Pritchett