Annual Performances
The Danscompany of Gainesville presents two annual performances at the Curtis M. Phillips Center for the Performing Arts, located on the University of Florida campus.

In December, The Danscompany presents their annual performance of

Cinderella

, a full-length ballet.

See if the two ugly step sisters, Skinny and Dumpy, are able to capture the heart of the prince.

Cheer on Cinderella as she dances the night away at the ball.

And sigh as she rides away in her beautiful carriage.

It's a timeless love story and a truly magical performance that you don't want to miss.

Make

Cinderella

your family tradition.


In March, The Danscompany presents their Spring Concert.

Delight in watching professional performers from across Florida as they light up the stage.

Enjoy the rhythm and style of Danscompany dancers as they present unique and creative choreography spanning the genres of hip hop, modern, jazz, tap and lyrical.

The performance also includes The Danscompany's annual rendition of

The Wiz

.

Join Dorothy and her friends as they dance their way down the yellow brick road to the Emerald City.

Will the Scarecrow find a brain?

Will the Tin Man find a heart? Will the Cowardly Lion find courage?

Will the trio escape the Wicked Witch?

Ease on down the road to the Performing Arts Center and find out.
Other Performances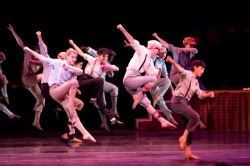 Danscompany dancers keep busy with other performances throughout the year.

During the month of October, Danscompany performs

Thriller

at Boo at the Zoo at Santa Fe College, the Oaks Mall, Haile Planation's Oktoberfest, and Gainesville Country Club's annual Halloween party.


Performances are also given as a part of other local events such as the Downtown Arts Festival and the Florida Natural History Museum Butterfly Festival.


Visit our Home page regularly to learn where Danscompany will be performing next.


---